Immigration Laws
California had a long history of racial discrimination toward Asians. The fear of Asian immigrants taking jobs or owning and cultivating land created a strong anti-Asian movement in the state. Politicians latched on to the movement and under pressure from California senators eventually pushed the U.S. Congress to pass the Immigration Act of 1917. The act prohibited immigrants from a barred zone, essentially all of Asia, including India, from entering the country with only a few exceptions. Legal immigration from those countries slowed to a trickle. The Immigration Act of 1924, which denied entry to all people from Asian countries, closed all loopholes. This meant Punjabis already in the U.S. could not bring their families to join them.
Puna Singh and Nand Kaur with their 3 young children (circa 1930). Immigration laws at the time prohibited men from bringing their wives. Nand Kaur was one of the first Punjabi women to immigrate to Yuba/Sutter area. Photo courtesy of Jane Singh.
Bud Singh Dhillon, c. 1945. Born a US citizen, Bud Dhillon volunteered for the army to fight against fascism in World War II. Courtesy of Kartar Dhillon, Berkeley.
Sukhbir Singh Rai, 1954
Baldev Singh, the first post WW II Kesadhari (with unshorn hair) Sikh to serve in the US Military. He was drafted during the Vietnam War and his father Jarnail Singh Purewal was instrumental in changing the law so that Sikhs did not have to cut their hair if they were drafted.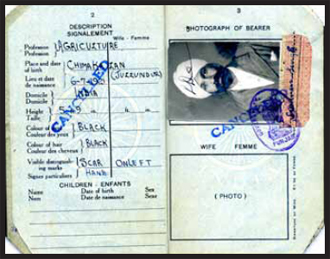 Swarn Singh (1949)
Harbhajan Singh Johl (1955)
Hardial Singh Hunji (1947)
Hari Singh Everest (1953)
Ishar Singh (1927)
Gurdawar Singh (1956)
Baldev (Bob) Singh (1958)
Gandi Singh (Angel Island 1940's)